Christmas Collections:
Giving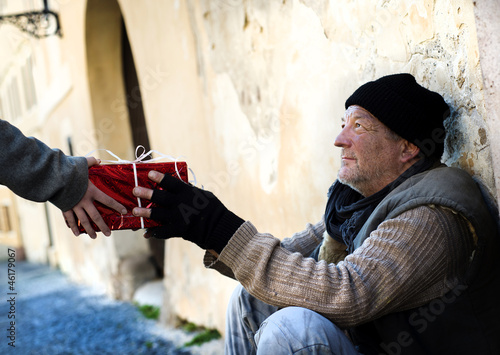 All by himself on a park bench
tired, hungry and cold.
With no place to call home
he sat there alone.
People passed by
never gave him a look.
Seems they all forgot
what's in the good book.
It was Christmas Eve
the church bells did sound
people were rushing
here, there and abound.
Passing right by him
as he sat on his bench
his memories all forgone
left him feeling entrench
Then a mom and a dad
saw this poor soul
they took his hand
and let him out from the cold.
Gave him Christmas Eve dinner
and bought him new clothes.
New shoes, coat and gloves
nothing on him did froze.
Paid for a hotel room
his eyes cried from their kindness
this homeless old man
his soul filled with fondness.
He would lay down and sleep
on his freshly made bed.
Out from the cold
he would lay down his head.
Days after Christmas
a knock on their door.
They had no idea
what was in store.
This homeless old man
that they helped Christmas Eve.
Had passed in the night
there was no one to greave.
He left you a letter
that you both should read.
You are very much like him
with not one ounce of greed.
With no one around gave
a second glance
you loving couple took
a big chance.
You made my last night
to restore faith in our kind.
For this I am leaving
you both peace of mind.