CDXXI ~> Going for Broke*
(Opus421 ~> Going for Broke)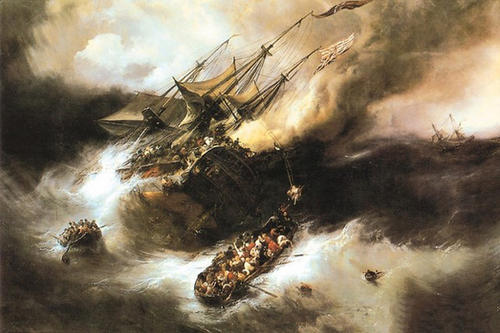 (1)
Finding yourself afraid to be afraid,
Feels like driving into a cul-de-sac,
With no stirring options but straight ahead;
No time to worry who covers your back,
You drive on, trusting everything on luck:
Without a conscience, you can't feel guilty;
Guilt proves the hallmark of human frailty!
(2)
Going for broke means all bets are at stake,
Including your reserves for rainy days;
Hesitant to take steps, makes your mistake,
Blunt off the edge of enterprising ways
To doom your journeys in endless abyss:
Neither to worry when you might stumble,
Nor be weary of flirting with trouble!
(3)
In an ocean of glum mediocrity
Ripples are wont to stir up turbulence;
The doldrums that impose tranquility,
Effectively cause undue influence
To stealthily propose ambivalence:
The major danger of going for broke
Is losing power on your closing stroke!
==<>==<|>==<>==
*Hook image (ArtPin04BravingStorm2H421.jpg), sequestered uncaptioned, from the Pinterest Art Masterpieces cyber collection periodically reaching my email inbox by gratis subscription.
©(2018), Constancio S Asumen Jr ~> https://allpoetry.com/…/14094847-CDXXI—gt–Going-for-Brok….