Friday! Time for an American Hero! Today is:
Knowing your American Heroes
NATHAN HALE (1755-1776)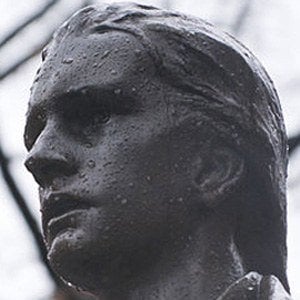 Born on June sixth, seventeen-fifty-five,
in the town of Coventry,
Nathan Hale from Connecticut
A true hero for his country.
Nathan and his brother Enoch
Mother and Father did agree.
At the young age of fourteen years
Were sent to Yale for their degrees.
There they met Benjamin Tallmadge
A lasting friendship did begin.
For Nathan Hale had no idea
What kind of trouble he would get in.
Nathan left with first class honors
To be a teacher was his aim.
He first taught in East Haddam
And in New London did the same.
The Revolution had begun
The state's militia he did join.
There he went to the regulars
To the British he would adjoin.
Under Colonel Charles Web of Stamford
A promotion for Hale to captain.
Commanding Thomas Knowlton's Rangers
Never once did he show uncertain.
He defended New York City
And his Rangers did much more.
They stole all ship's provisions
This ship~~ the British man-of-war!
During the battle of Long Island
When the British took control
Hale volunteered to go behind
Reporting movement was his goal.
He was disguised as being Dutch
A school teacher with credentials.
He was aware of the great risk
And the dangerous potential.
While he was there Manhattan burned
The great fire of seventy-six.
Two-hundred partisans rounded up
Adding tension to the conflict.
Nathan Hale was now a suspect
Major Rogers saw through his disguise
He talked as if was on his side
Hale confided after all his lies.
Found with physical evidence
Arrested for crimes that he spied.
Next morning was hanged by his neck
Nathan Hale~ a hero when he died.
The morning of September twenty-second
His last words were written for history
"I only regret I have but one life
To lose for my country."
AUTHOR NOTES*

The story of the Hale family goes back over 250 years when Nathan's father, Deacon Richard Hale (1717-1802), came to Coventry around 1740 from Newburyport, Massachusetts, and purchased 240 acres with appurtenances thereof. In 1746 he married Elizabeth Strong (1727-1767) of a prominent Coventry family. The couple had 12 children in 19 years, ten of whom survived to adulthood. Eight were boys, all but two of whom would serve in the Revolution.
Nathan Hale: June 6, 1755 to September 22, 1776) The Hale brothers belonged to the Yale literary fraternity, Linonia, which debated topics in astronomy, mathematics, literature and the ethics of slavery. July 6, 1775, he joined the regular Continental Army's 7th Connecticut Regiment under Colonel Charles Webb of Stamford. British General William Howe had his headquarters in a manor house (called the Beekman Mansion) in a rural part of Manhattan, at what is now 51st Street and First Avenue (Manhattan). Hale reportedly was questioned by Howe and physical evidence was found on him. Rogers provided information about the case. According to tradition, Hale spent the night in a greenhouse at the mansion and then was marched along Post Road to the Park of Artillery, which was next to a public house called the Dove Tavern (at modern day 66th Street and Third Avenue (Manhattan), and hanged. If Hale did give the famous speech, it is most likely he was actually repeating a passage from Joseph Addison's play, Cato, an ideological inspiration too many Whigs: How beautiful is death, when earn'd by virtue! Who would not be that youth? What pity is it that we can die but once to serve our country.