Clans Of Clams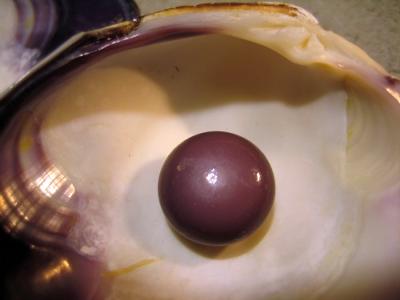 Once upon a time there was a clan, not an ordinary clan.
But a clan of clams living in the ocean at the bottom in the sand.
Each year they held a festival, the festival of pearls.
It started small but now the clams come from the entire world.
They make their pearl inside their shell and they do this very well.
Then one year an eerie sight produced by Mary Earple.
Until this day the pearls where white but this one was bright purple!
Most of them just backed away and all feared for their life.
The purple pearl yet unnamed was glowing way too bright!
What is this? They all thought, surely this can't be.
A purple pearl? Call the doc this he has to see!
The doctor came and took the pearl away from Mary Earple.
She missed her baby pearl so much and did not care if it was purple!
The purple pearl was outcast and taken right away.
And all of the pearly whites were forbidden to even play.
The purple pearl was placed aside and so felt all-alone.
Someday she thought I will be found and they will take me home.
Days went by and years rolled on and the purple pearl did grow.
Every day she would make a wish to make her brilliance show.
And then one day it happened and it was quite by chance.
Another outcast purple pearl had asked her out to dance.
Then the two were married and moved across the sea.
They had so many purple pearls they came from all around to see.
Then one day a human found the purple pearls.
And took them from their home and traveled around the world.
Soon they were all treasured that people wanted so.
Now you know the purple pearl and how the story goes.