Friday!! Time for an American Hero! today is:
Knowing your American Heroes

CLARA BARTON (1821-1912)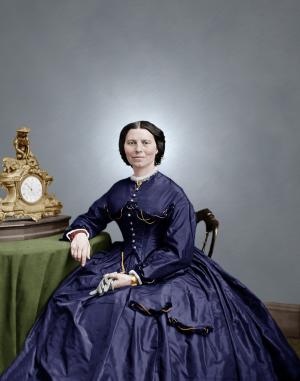 Born in Oxford, Massachusetts
The youngest of five was Clara.
Father was Captain Stephen Barton
And her Mother's name was Sarah.
As a child she was timid
Her siblings were ten years or older.
Clara's sisters taught her certain things
Women's issues they only showed her.
Older sisters being teachers
She was home educated.
Other things thought just for men
Her brothers had incorporated.
When Clara was eleven
Her brother David became ill.
She stayed by his side for two years
Learning all his medicine with skill.
When the Civil War began
She worked in the Patent Office.
She quit her job to care for soldiers
Wounded or in need of hospice.
Realizing the unpreparedness of
The Army Medical Departments.
The first battle at Bull Run
She had made her own adjustments.
She established an agency
To bring supplies to the wounded.
In eighteen-hundred-sixty-two
For treatments she was applauded.
Clara also had permission
The fighting she was right behind.
Often close to the battlefields
Cared for North and South combined.
At the end of the Civil War
She was assigned to trace the fate.
To identify and mark the graves
Her own plan she did create.
From sixty-five to sixty-nine
Clara searched for missing soldiers.
She was physically exhausted
Ordered to rest is what they told her.
Was sent to Europe for her rest
While she was there became involved.
With The International Red Cross
Her issues she thought would be solved.
Back home she started a movement
For the American Red Cross.
Granted from President Garfield
Clara naturally was the boss.
Money given by John D. Rockefeller
Helped build this organization.
The United States now known as
"Good Samaritan of Nations."
AUTHOR NOTES*
Born- December 25, 1821~~Died- April 12, 1912
When her father was dying, he gave Clara advice that she would always recall:
"As a patriot, he had me serve my country with all I had, even with my life if need be; as the daughter of an accepted Mason, he had me seek and comfort the afflicted everywhere, and as a Christian he charged me to honor God and love mankind."
In 1865, President Abraham Lincoln placed her in charge of the search for the missing men of the Union army, and while engaged in this work she traced the fate of 30,000 men. As the war ended, she was sent to Andersonville, Georgia, to identify and mark the graves of Union soldiers buried there. This experience launched her on a nationwide campaign to identify soldiers missing during the Civil War. She published lists of names in newspapers and exchanged letters with veterans and soldiers' families. She also delivered lectures on her war experiences, which were well received. She met Susan B. Anthony and began a long association with the suffrage movement. She also became acquainted with Frederick Douglass and became an activist for black civil rights. While on vacation in Europe she became involved with the International Red Cross and its humanitarian work during the war between France and Prussia. Created in 1864, the International Red Cross had been chartered to provide humane services to all victims during wartime under a flag of neutrality. Clara Barton continued to do relief work on the battle field as an aid until well into her 70s. She went to Cuba with a cargo of supplies in 1898 and spent six weeks on the scene of the Galveston, Texas floods, at age 79. She resigned from the American Red Cross in 1904 at the age of 83 and spent her remaining years in Glen Echo, Maryland. She died in 1912 at age 91, and is buried less than a mile from her birthplace in a family plot in Oxford, Massachusetts.