Friday! Time for an American Hero! Today is:
Knowing your American Heroes
SITTING BULL (c. 1831-1890)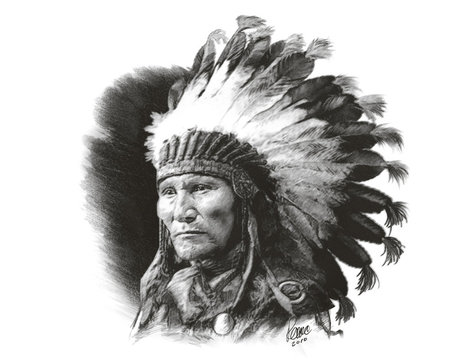 Born around eighteen-thirty-one
In present day South Dakota.
At a place they called "Many Caches"
Given name of Tatanka-Iyotanka.
In English translate to Sitting Bull
While this was not his real name.
Before the end of his life here
This Chief would reach world-wide fame.
The first time he saw U.S. soldiers
Was June of eighteen-sixty-three.
His people were severely beaten
From this, a Great Chief he would be.
The Battle of Killdeer Mountain
Had struck a significant blow.
Many went to reservations
While Sitting Bull refused to go.
This action won him huge respect
And head Chief of Lakota nation.
In eighteen-hundred-sixty-eight
White man came from all directions.
Brought settlers and miners,
Farmers and missionaries.
Railroad workers and town folks
And increasing military.
Slowly they were being pushed
As they were forced from tribal lands.
Sitting Bull, a medicine man
Had made his people understand.
Like many tribal leaders
That were being moved from their land.
He wanted peace and trade with whites
Soon would be forced to make a stand.
Eighteen-hundred and seventy-six
Attacked by the 7th Cavalry.
Custer's army was forced to retreat
For Sitting Bull a victory.
More than three-thousand warriors
Proceeded to counter-attack.
Annihilating the soldiers
Led by Sitting Bull to fight back.
Now was placed as a great leader
With Crazy Horse and Geronimo.
This victory would be short lived
Relentless pressure they would soon know.
In eighteen-hundred and ninety
Sitting Bull and his son Crow Foot.
Where both killed while being arrested,
Forty-three Indian police it took.
A Great Chief and medicine man
An inspirational leader.
Always affable and friendly
A loving father and gifted singer.
AUTHOR NOTES*


Sitting Bull was born around 1831 on the Grand River in present-day South Dakota, at a place the Lakota called "Many Caches" as it was used for food storages pits for the tribe to see out the winter. He was given the name Tatanka-Iyotanka at his birth, which describes a buffalo bull sitting intractably on its haunches. This, in English, translates as Sitting Bull. While this was not his real name, it would be the one he would reach world-wide fame with towards the end of his life. He saw his first encounter with American soldiers in June of 1863, when the army mounted a broad campaign in retaliation for the Santee Rebellion in Minnesota, in which Sitting Bull's people played no part. The following year he was involved when his tribe clashed with U.S. troops at the Battle of Killdeer Mountain. The battle was a decisive victory for the Army and left the Native Americans badly beaten, largely because of the artillery used by the Army which devastated the Sioux. The Battle of Killdeer Mountain struck a significant blow against Native American resistance and many chiefs gave up the fight and went to reservations. Sitting Bull refused to surrender and rose to be a tribal leader, leading his warriors in a siege against the newly-constructed Fort Rice in present-day North Dakota. This action won him huge respect among the tribe and he became head chief of the Lakota nation in c. 1868. Like many tribal leaders, Sitting Bull first attempted to make peace and trade with the whites. However, many of the men the Lakota encountered would trick them into accepting poor deals for their lands which created resentment amongst the tribes. When his people were driven from their reservation in the Black Hills, an area that the Sioux consider holy, after the discovery of gold in 1876, Sitting Bull took up arms against the whites and refused to be transported to the Indian territory.
On June 25, 1876, Custer's 7th Cavalry advance party of General Alfred Howe Terry's column attacked Indian tribes at their camp on the Little Big Horn River expecting a victory. Custer's badly-outnumbered troops lost ground quickly and were forced to retreat, as they began to realize the true numbers of the Native American force. The tribes then led a counter-attack against the soldiers on a nearby ridge, ultimately annihilating the soldiers. The victory placed Sitting Bull among the great Native American leaders such as fellow Little Big Horn veteran Crazy Horse and Apache freedom fighter Geronimo. But the Native Americans' celebrations were short lived, as public outrage at the military catastrophe and Custer's death brought thousands more cavalrymen to the area. Over the next year, the new forces relentlessly pursued the Lakota, forcing many of the Indians to surrender. Sitting Bull refused to surrender, and in May 1877 led his band across the border into Canada, where he would remain in exile for a number of years, refusing a pardon and the chance to return. Pre-empting the army, 43 Indian police attempted to arrest him on December 15, 1890 at the Standing Rock Agency. However, his followers were still loyal, and fought to prevent the arrest, fearing that the army meant to kill Sitting Bull. Shots were fired and Sitting Bull, who was hit in the head, and his son Crow Foot, were both killed. Sitting Bull's body was taken by the Indian police to Fort Yates, North Dakota and buried in the military cemetery. The Lakota claim that his remains were transported in 1953 to Mobridge, South Dakota, where a granite shaft marks his grave. Sitting Bull is still remembered among the Lakota not only as an inspirational leader and fearless warrior, but as a loving father, a gifted singer, and as a man always affable and friendly toward others, whose deep religious faith gave him prophetic insight and lent special power to his prayers.