Friday! Time for an American Hero! Today is:
Knowing your American Heroes
FATHER RASLE (1658-1724)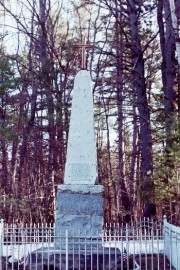 Born and named Sebastian
Rasle
Dole, France in sixteen-fifty-eight.
His family was distinguished;
Rasle knew teaching was his fate.
He did his studies in Dijon
Much against his parents wish.
Wanting to be a Jesuit
This goal he would not relinquish.
In sixteen-hundred and seventy-five
For a short time taught Greek at Nimes.
Joined the Society of Jesus
Life of teaching was facing him.
In eighty-nine he did request
An attachment in Canada.
That July he left La Rochelle
Would end up in America.
First he landed at Quebec, was
Given charge of various missions.
Then headed for America
To teach and preach religion.
Living among the Abenakis
In what is now the state of Maine.
He compiled a thorough study
By sharing hardship and their pain.
He established the first school there
And a mission in Norridgewock.
Acquired a strong influence
Among the Indians he would walk.
When the Chiefs of the Abenakis
To the English they sought alliance.
Rasle advised them against this
And would pay for his defiance.
Governor Dudley, of Boston
In seventeen-hundred and two.
A vote from the common council
For Rasle's head they did choose.
In seventeen hundred and five
With two-hundred and seventy men.
Plus forty-five New Englanders
Captain Hilton failed to bring Rasle in.
Peace restored in seventeen-thirteen
At Norridgewock a new church.
A price was still on Rasle's head
The English would make another search.
Under Colonel Thomas Westbrook
In seventeen-hundred and twenty-three.
Once more the church was pillaged
Again Rasle managed to flee.
John Pickering from Fort Richmond
Surprised Norridgewock in the night.
Father Rasle was shot to death
And seven Chiefs guarding his life.
AUTHOR NOTES*


RASLE, Sebastien, French missionary, born in Dole, France, in 1658; died in Norridgewock, Maine. 12 August, 1724. His name is often improperly spelled Raale, Rale, and Retle. His family was distinguished in the province of Franche-Comte. and, after completing his studies in Dijon, he became a Jesuit, much against the wish of his parents, and taught Greek for a time in the college of the society at Nimes. At his request he was attached in 1689 to the missions of Canada, and,
sailing from La Rochelle, 23 July, he landed at Quebec on 18 October After having charge of various missions he was placed in charge of the station of Norridgewock, on Kennebec river, about 1695.
He came to America on 13 October 1689 and lived with the native Americans in Illinois (1692-95) and at Becancour (1705-11) in Canada. He later lived among the Abenakis for whom he established the first school ever in what is now the State of Maine. Here he made a thorough study of the Abenaki language, and, by sharing the dangers and hardships of the Indians, he acquired such an influence among them that the French authorities at Quebec thought advisable to utilize it in the struggle against England. In the winter of 1705 Captain Hilton, with a party of 270 men, including forty-five New Englanders, surprised Norridgewock and burned the church, but Rasle escaped to the woods with his papers.
When peace was restored in 1713 he set about building a new church at Norridgewock. and, aided by the French governor, erected one which, in his own words, " would excite admiration in Europe." It was supplied with all the apparatus of Roman Catholic worship, and the set-vices were conducted with great pomp, forty Indian boys, trained by him, acting as acolytes. Shute, of Massachusetts, engaged afterward in a correspondence with Rasle; but failing in the attempt to decoy him to Boston, sent parties to seize him. In January, 1723, a band of 300 men under Colonel Thomas Westbrook succeeded in reaching the mission, burned the church, and pillaged Rasle's cabin. There they found an iron box which contained, besides his correspondence with the authorities of Quebec, a valuable dictionary of the Abenaki language in three volumes. Captain John Pickering in 1724 with a party of 208 men from Fort Richmond surprised Norridgewock in the night, killed several Indians, and shot Rasle, who was in the act of escaping, at the foot of the mission cross, seven chiefs, who endeavored to protect him, sharing his fate. His body was afterward mutilated by the incensed soldiery and left without burial; but when the Abenakis returned a few days later, they buried his remains. The French authorities vainly asked reparation for the outrage, but in 1833 the citizens of Norridgewock raised a subscription, bought an acre of land on the spot where Rasle fell, and erected there a monument to his memory, which Bishop Fenwick, of Boston, dedicated on 29 August. Rasle was killed at his mission in Norridgewock, Maine, on 23 August 1724, as he defended his Abenaki people. After his death the war known as Father Rasle's War started. It lasted for two years in which the native Americans lost their lands with English victory.