Friday! Time for an American Hero! Today is:
Knowing your American Heroes
Joshua Chamberlain (1828-1914)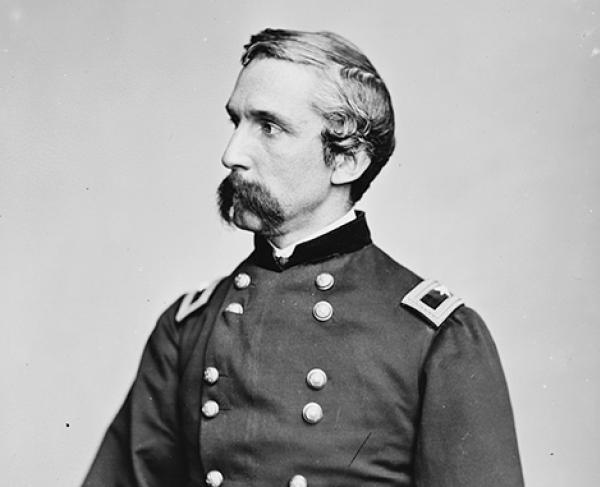 The eldest of five children
Born September eighth in Brewer, Maine.
Working on his father's farm
They called him Lawrence by name.
In forty-eight in Brunswick
He attended Bowdoin College.
A serious minded youth
He did possess much knowledge.
He joined a secret society
Known as "Alpha Delta Phi."
Appears to have been pious
Till Fanny Adams caught his eye.
Adopted daughter of a minister
Were to be married in fifty-five.
But first was to be a teacher
More knowledge he did strive.
At Ellsworth he attended
A military school.
Learning to be a soldier
Strategies and how to rule.
A lieutenant colonel in the volunteer
The 20th Maine Infantry Regiment.
Played a major role in the Civil War
Particularly two events.
The action at Little Round Top
And the second day at Gettysburg.
Wounded six times he led his men
To repel the rebels surge.
A Brevet Major General
Four terms as governor of Maine.
Never recovered fully
From his wounds that brought him pain.
With Fannie they had children
The number being five
They lost three at a young age
To adulthood only two would survive.
Joshua was a soldier
A writer and a teacher.
A father and a husband
And was one great leader.
AUTHOR NOTES: Joshua Lawrence Chamberlain was born Sept. 8, 1828, in Brewer, Maine, the eldest of five children. Facing the much larger city of Bangor across the Penobscot River, Brewer was in Chamberlain's youth a small farming and ship-building community. His father had commanded troops in the bloodless Aroostook War of 1839 with Canada, his grandfather had been locally prominent in the War of 1812, and his great-grandfathers had participated in the Revolution Chamberlain felt a strong urge to fight to save the union. (Although sympathetic to the plight of the slaves, he is not known to have been an abolitionist and showed little interest, after the war, in the cause of the freedmen.) But the college was reluctant to lose his services. Offered a year's travel with pay in Europe in 1862 to study languages, Chamberlain instead volunteered his military services to Maine's governor Chamberlain saw much of the war in the East, including 24 battles and numerous skirmishes. He was wounded six times — once, almost fatally — and had six horses shot from under him. He is best remembered for two great events: the action at Little Round Top, on the second day of Gettysburg (2 July 1863), when then-Colonel Chamberlain and the 20th Maine held the extreme left flank of the Union line against a fierce rebel attack, and the surrender of Lee's Army of Northern Virginia at Appomattox, when Grant chose Chamberlain to receive the formal surrender of weapons and colors (12 April 1865). Always a chivalrous man, Chamberlain had his men salute the defeated Confederates as they marched by, evidence of his admiration of their valor and of Grant's wish to encourage the rebel armies still in the field to accept the peace. Brevet Major General Chamberlain returned briefly to his academic duties at Bowdoin, but was soon elected as a popular war hero to four terms as governor of Maine — helping establish a century of domination of Maine politics by the Republican Party. Chamberlain was never a member of the inner circle of the party and was distrusted by its leading politicians, but in his years as chief executive he helped establish the new agricultural and technical college at Orono (eventually to grow into the University of Maine), tried to attract investment into a state whose economy was beginning to decline, and persuaded Scandinavian immigrants to take up farming at New Sweden and elsewhere in Maine. He continued to live in Brunswick, taking the train to Augusta as state business required. Rather than go into finance or railroads like so many young Civil War generals, former Governor Chamberlain returned to Bowdoin; he was to spend far more of his life as an educator than as a soldier. In 1871, he was persuaded to accept the presidency of the college at a low point in its fortunes. Remembering the engineering skills of West Point-trained officers and trying to adjust to a new age, Chamberlain reshaped the curriculum to include modern scientific and engineering subjects — a short-lived experiment that produced at least one very famous alumnus, the polar explorer Admiral Robert Perry, Class of 1877. Despite several operations, Chamberlain had never fully recovered from the wound in his groin he had received in 1864 at Petersburg  and in 1883 ill health led to his resignation as Bowdoin's president. In 1893 Congress finally gave him the Medal of Honor for gallantry at Gettysburg. In 1905 Fannie Chamberlain died. Of their five children, two had survived to adulthood. In 1900 Chamberlain was appointed Surveyor of the Port of Portland, where he lived until his death in 1914 at age 85.