IDAHO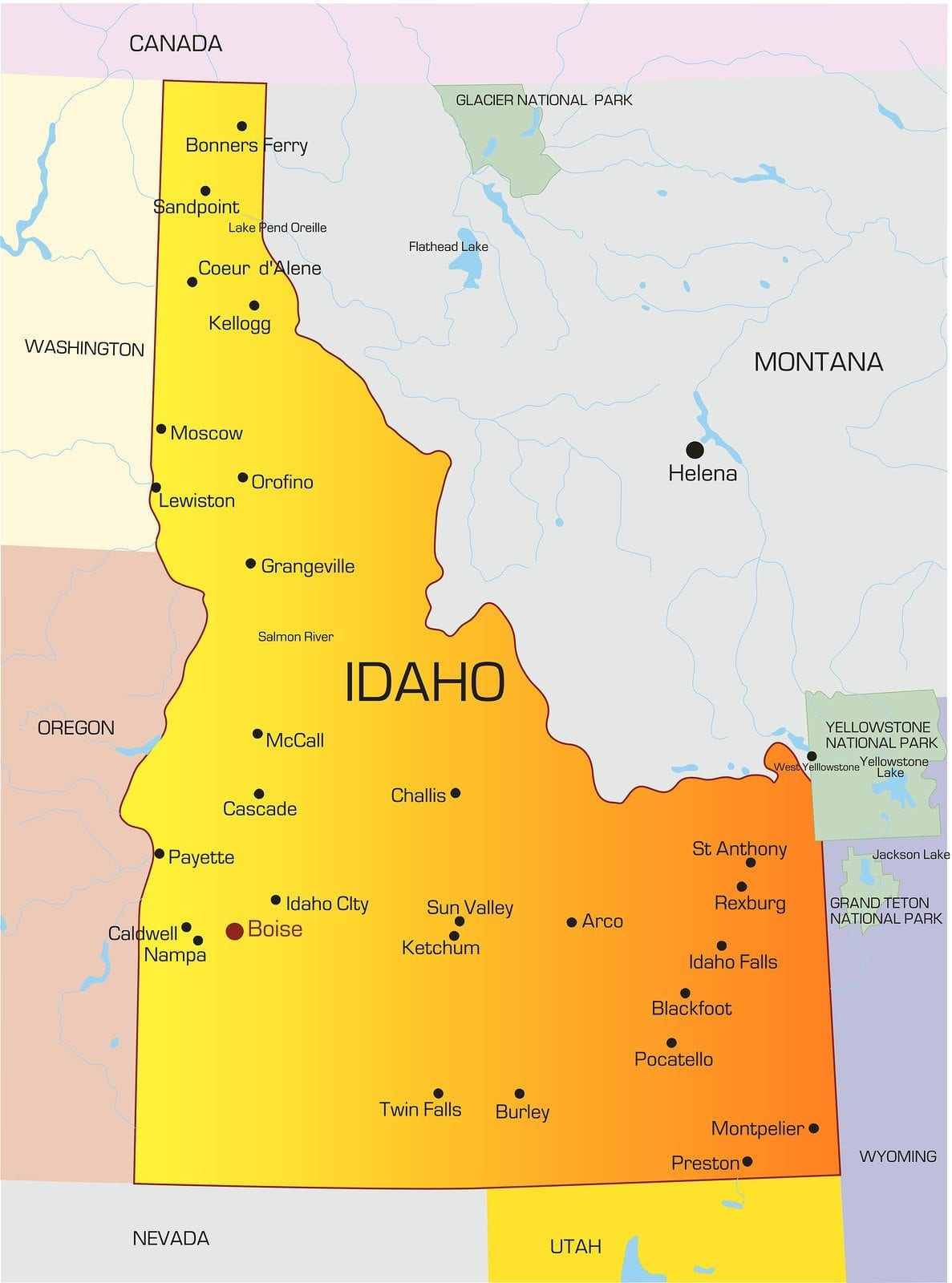 Colorado was first suggested
For the naming of this state.
But after much consideration
It was Idaho that won the great debate
"E Dah Hoe" means, "gem of the mountains."
The motto is, "Let it be perpetual."
The people are called "Idahoans"
Being called the "Gem State" was contractual..
The cutthroat trout is the fish
The horse is the Appaloosa.
The state fruit is called the huckleberry
The state flower is the syringa.
The Star garnet is the gemstone,
The only place on earth you'll find!
The Monarch butterfly is the insect
The state's tree is the Western white pine.
I can not forget the vegetables
Those famous Idaho potatoes
Here's a fact not many know
Boise is famous for tomatoes!
Sierra Silver Mine and Gold Dredge
Are official ghost towns shown
Plus Yankee Fork and Silver City
If you are seeker of the unknown
The worlds most densely populated
With Raptor's or birds of prey.
Eagles, Falcons, Hawks and Vultures
By the thousand for display.
Anderson Dam, they say is the best
For its blue ribbon fly fishing.
And the world's famous Lava Hot Springs
To see all this I'm wishing!
Now is the time for famous names
Like Borglum, Picabo and Killebrew
Dobbs, Fagerbakke, Pound and Benson
Farnsworth and Albertson, to name a few.
~~~~~~~~~~~~~~~~~~~~~~~~~~~~~~~~~
Statehood, July 3, 1890 the 43rd state
Capital is Boise
AUTHOR NOTES:
The Cataldo mission is the oldest building in the state.
In Idaho law forbids a citizen to give another citizen a box of candy that weighs more than 50 pounds.
The city of Grace in the Gem Valley is most famous for their certified seed potatoes.
Blackfoot is home of the Eastern Idaho State Fair.
Idaho's first territorial prison was opened in 1872. It was placed on the National Register of Historic Places. It was converted into a public facility after the last prisoners were removed in 1974.
Seven Devils' Peaks, one of the highest mountain ranges in Idaho, Includes Heaven's Gate Lookout, where sightseers can look into four states.
Under Idaho law only two forms of city government are allowed: a mayor/councilor or a council/manager form. Shelley has been the home of the Idaho Annual Spud Day since 1927.
Sun Valley is recognized as the home of America's first destination ski resort.
Weiser is Home of the National Old Time Fiddlers Contest.