Friday! Bonus post 4th of JULY!  A special post from the book of American Heroes!
Knowing your American Heroes
United States Declaration of Independence (1776)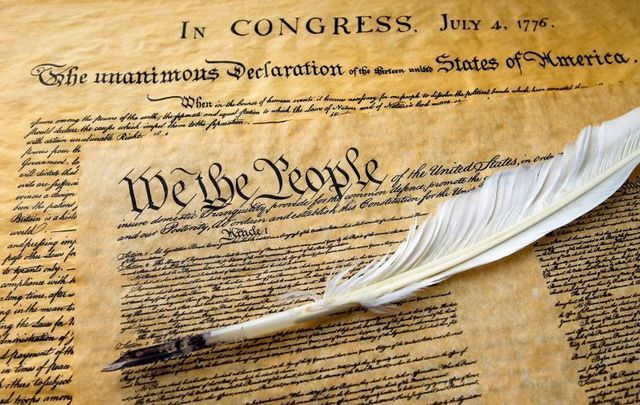 Relations between Great Britain
And its American colonies.
Sentiment for independence
Was growing rapidly.
In set was a shadow government
In place in each colony.
With a Continental Congress
And Correspondence Committee.
When the Revolution started
The shadow government took control.
The colonist would be united
And oust the British as a whole.
The Second Continental Congress
Know as the "Committee of Five."
Would draft a suitable declaration
To insure America would survive.
Adams, Franklin and Jefferson
Roger Sherman and Robert Livingston.
Would draft the declaration
To frame this resolution.
Contrary to public belief
The Declaration was signed secretly.
And not as a group but
Little by little actually.
July fourth, seventeen-seventy-six
Congress approved the Declaration.
In fact the Delegates signed
On August second each with great elation.
John Hancock was the first to sign
The Declaration for a new Nation.
Independence was now assured
By all in the delegation.
In seventeen-seventy-six
A new country had been formed.
Ideals of freedom and religion
Would finally be transformed.
All the names signed
Are heroes on our Declaration.
The United States of America
From colonies to a Nation.
AUTHOR NOTES: As relations between Great Britain and its American colonies with a Continental Congress and Committees of Correspondence linking these shadow governments. As soon as fighting broke out in April 1775, these shadow governments took control of each colony and ousted all the royal officials. Sentiment for outright independence grew rapidly in response to British actions; the options were clarified by Thomas Paine's pamphlet Common Sense, released in January 1776. In June of 1776, a committee of the Second Continental Congress consisting of John Adams of Massachusetts, Benjamin Franklin of Pennsylvania, and Thomas Jefferson of Virginia, Robert R. Livingston of New York, and Roger Sherman of Connecticut (the Committee of Five") was formed to draft a suitable declaration to frame this resolution.
The committee decided that Jefferson would write the draft, which he showed to Franklin and Adams. Prior to deciding on Jefferson, both Adams and Franklin turned down the offer, citing that if they wrote it people would read it with a biased eye. Franklin himself made at least 48 corrections. Jefferson then produced another copy incorporating these changes, and the committee presented this copy to the Continental Congress on June 28, 1776. There are several popular myths concerning the Declaration of Independence. A misconception about the Declaration of Independence is that it was the original document by which the Colonies articulated their rejection of British rule. In fact, the Lee Resolution had already declared independence on July 2. Because the Declaration of Independence is dated July 4, 1776 (the date of its approval and adoption by the Continental Congress), many people believe it was signed on that date—in fact, most of the delegates signed the Declaration on August 2, 1776. While the July 4 Declaration differed from the Lee Resolution in that it asserted unanimity, the abstaining Province of New York did not pass its own vote for independence until July 9. A story repeated on National Public Radio during the annual reading of the Declaration on the Morning Edition program was that King George III's diary entry for July 4, 1776, read: "Nothing of importance happened today". In fact, George III never kept a diary. The error was corrected in 2006. Contrary to popular belief, the Declaration was not signed in public as a group. The delegates actually signed it in secret, little by little. In June of 1776, a became increasingly strained, the Americans set up a shadow government in each colony, committee of the Second Continental Congress consisting of John Adams of Massachusetts, Benjamin Franklin of Pennsylvania, and Thomas Jefferson of Virginia, Robert R. Livingston of New York, and Roger Sherman of Connecticut (the Committee of Five") was formed to draft a suitable declaration to frame this resolution. The committee decided that Jefferson would write the draft, which he showed to Franklin and Adams. Prior to deciding on Jefferson, both Adams and Franklin turned down the offer, citing that if they wrote it people would read it with a biased eye. Franklin himself made at least 48 corrections. Jefferson then produced another copy incorporating these changes, and the committee presented this copy to the Continental Congress on June 28, 1776. A formal declaration for independence was delayed on July 2, 1776, pursuant to the "Lee Resolution" presented by Richard Henry Lee of Virginia on June 7, 1776, which read (in part): '"Resolved: That these united Colonies are, and of right ought to be, free and independent States, that they are absolved from all allegiance to the British Crown, and that all political connection between them and the State of Great Britain is, and ought to be, totally dissolved."' The full Declaration was reworked somewhat in general session of the Continental Congress. Congress, meeting in Independence Hall in Philadelphia, finished revising Jefferson's draft statement on July 4, approved it, and sent it to a printer. At the signing, Benjamin Franklin is quoted as having stated: "We must all hang together, or assuredly we shall all hang separately," a play on words indicating that failure to stay united and succeed would lead to being tried and executed, individually, for treason. Signatures on the Declaration of Independence are: New Hampshire: Josiah Bartlett, William Whipple, Matthew Thornton Massachusetts: Samuel Adams, John Adams, John Hancock, Robert Treat Paine, Elbridge Gerry Rhode Island: Stephen Hopkins, William Ellery Connecticut: Roger Sherman, Samuel Huntington, William Williams, Oliver Wolcott New York: William Floyd, Philip Livingston, Francis Lewis, Lewis Morris New Jersey: Richard Stockton, John Witherspoon, Francis Hopkinson, John Hart, Abraham Clark Pennsylvania: Robert Morris, Benjamin Rush, Benjamin Franklin, John Morton, George Clymer, James Smith, George Taylor, James Wilson, George Ross Delaware: George Read, Caesar Rodney, Thomas McKean Maryland: Samuel Chase, William Paca, Thomas Stone, Charles Carroll of Carrollton Virginia: George Wythe, Richard Henry Lee, Thomas Jefferson, Benjamin Harrison, Thomas Nelson, Jr., Francis Lightfoot Lee, Carter Braxton North Carolina: William Hooper, Joseph Hewes, John Penn South Carolina: Edward Rutledge, Thomas Heyward, Jr., Thomas Lynch, Jr., Arthur Middleton Georgia: Button Gwinnett, Lyman Hall, George Walton